Episode 10: Never Before Seen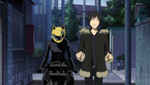 It turns out Mikado had bumped into the girl with the scar on her neck on a street corner. Filled with a sense of déjà-vu, the sounds of a neighing horse reach his ears. The girl was being chased by the Headless Rider.
Mikado succeeds in safely getting home with the girl, who tells him she has amnesia. A fearful Mikado consults with Masaomi on a course of action, and ultimately decides to wait and see what happens.
The next day, much to Mikado's bewilderment, he finds two individuals waiting for him outside the school gates: the information broker Izaya and the Headless Rider.