Episode 2: Highly Unpredictable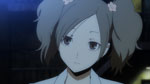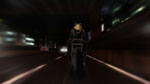 It is the Entrance Ceremony at Raira Academy, and the auditorium swells with a varied mix of emotions emitted from the students. There is excitement at starting a new life, a shy introduction, a declaration of a decision to not attend school, and one seat left empty by a continuous absence.
Amidst all this is Rio Kamichika: a girl with a notably dark vibe following her. Soon, a "crack" will run through this otherwise normal world; a crack which should have killed this girl two days prior.