Episode 8: Ephemeral Dream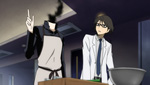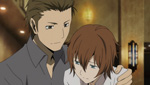 Celty, anxious and uneasy about being unable to find her head, gets into a quarrel with Shinra and runs away from home. While he waits patiently for her return, a certain individual pays him a visit. What is this person's connection to Shinra? And what is this individual's goal?
Meanwhile, an exchange student named Shiri wanders the streets of Ikebukuro with a sign and sketchbook asking random people "Hello! What are you looking for?" As she gains more and more answers, we learn that the ideals of the people of Ikebukuro are very different.