Episode 11: Storm and Stress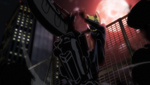 Anri's missing friend, the Dullahan, the girl with the scar on her neck, Yagiri Pharmaceuticals, the kidnappings, and the Dollars…little by little, the pieces begin to fall into place. On a busy street in Ikebukuro, amidst the hustle and bustle, Mikado confronts Namie. Although he is afraid, Mikado is focused and determined to reveal the truth.
Meanwhile, high atop a building above them is Celty, reflecting upon Shinra's words. What has her reason for living been while she's searched for her head? As she stands pondering her thoughts, one after another, the shadows of the nighttime city begin to multiply.