Episode 25: World At Peace < Stand Alone Special Episode!! >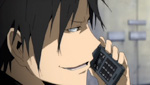 While on location shooting and hosting "Love Love Star Chance! Find Ikebukuro's Number One Couple!", Yuhei looks for a cute couple to star in his upcoming movie, but will it be Mikado and Anri who are suddenly put on the spot?
Amongst the street audience gathered around for the show, Shizuo calmly keeps an eye on his brother, but things are about to get way out of hand as tempers flare and vending machines and signposts are flung when he finds out that Yuhei is being set up for a trap orchestrated by his archrival, Izaya Orihara!